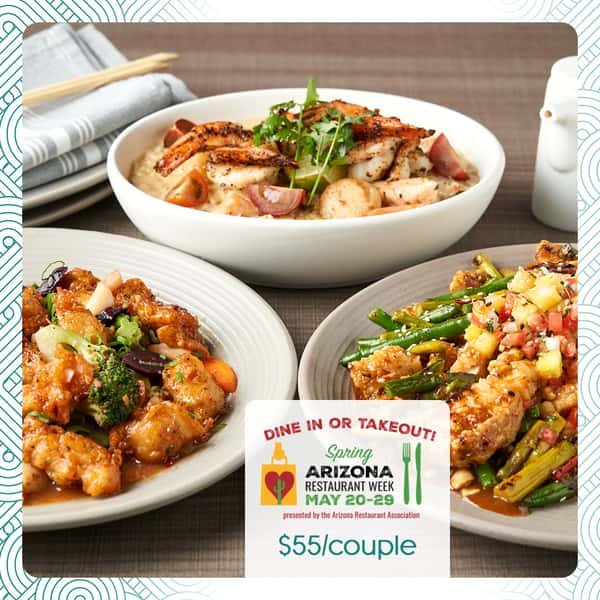 Arizona Restaurant Week - Spring 2022
Join Ling's Wok Shop for Arizona Restaurant Week from Friday, May 20th through Sunday, May 29th!

Enjoy a special 3-course menu for two people for just $55/couple.

SMALL BITES (choose one to share)
Black Orchid Ahi w/ spicy soy mustard
Spicy Pork Lettuce Wraps w/ artisan romaine lettuce cups
Steamed Dumplings w/ soy-ginger broth & chili oil

SALADS (choose one to share)
Thai Quinoa Salad w/ peanut dressing
Vietnamese Noodz Salad w/ sweet chili vinaigrette
Asian Chopped Salad w/ sesame-soy dressing

ENTREES (choose one per person)
New Wave Pad Thai w/ shrimp & chicken
Cashew Stir-Fry w/ grass-fed beef
Ling's Seafood Hot Pot w/ green curry-coconut broth
Szechwan Sea Bass w/ spicy citrus-soy & pineapple salsa
Buddha's Belly w/ chicken


This special menu will only be available for a limited time, so make your reservations today and celebrate Arizona Restaurant Week with Ling's Wok Shop!